BOSS/GfK Panelmarket - Summary for June 2023
GfK track and audit 36 product categories in the Office & Stationery sector and produces time comparable data for Sales Value, Sales Units/Packs and Sales Pieces - as well as calculating an average pack price and sales price.
Data is now split across two Retail channels and one B2B channel (Systemhouses) - these combine to provide the overall Panelmarket total, the Retail channels encompass around 90% of the Panelmarket total. GfK estimate that the overall total for the 36 selected products, as reported in the Panelmarket, covers around 75% of the estimated UK market total for the 36 selected products.
Latest available data is up to (and including) June 2023.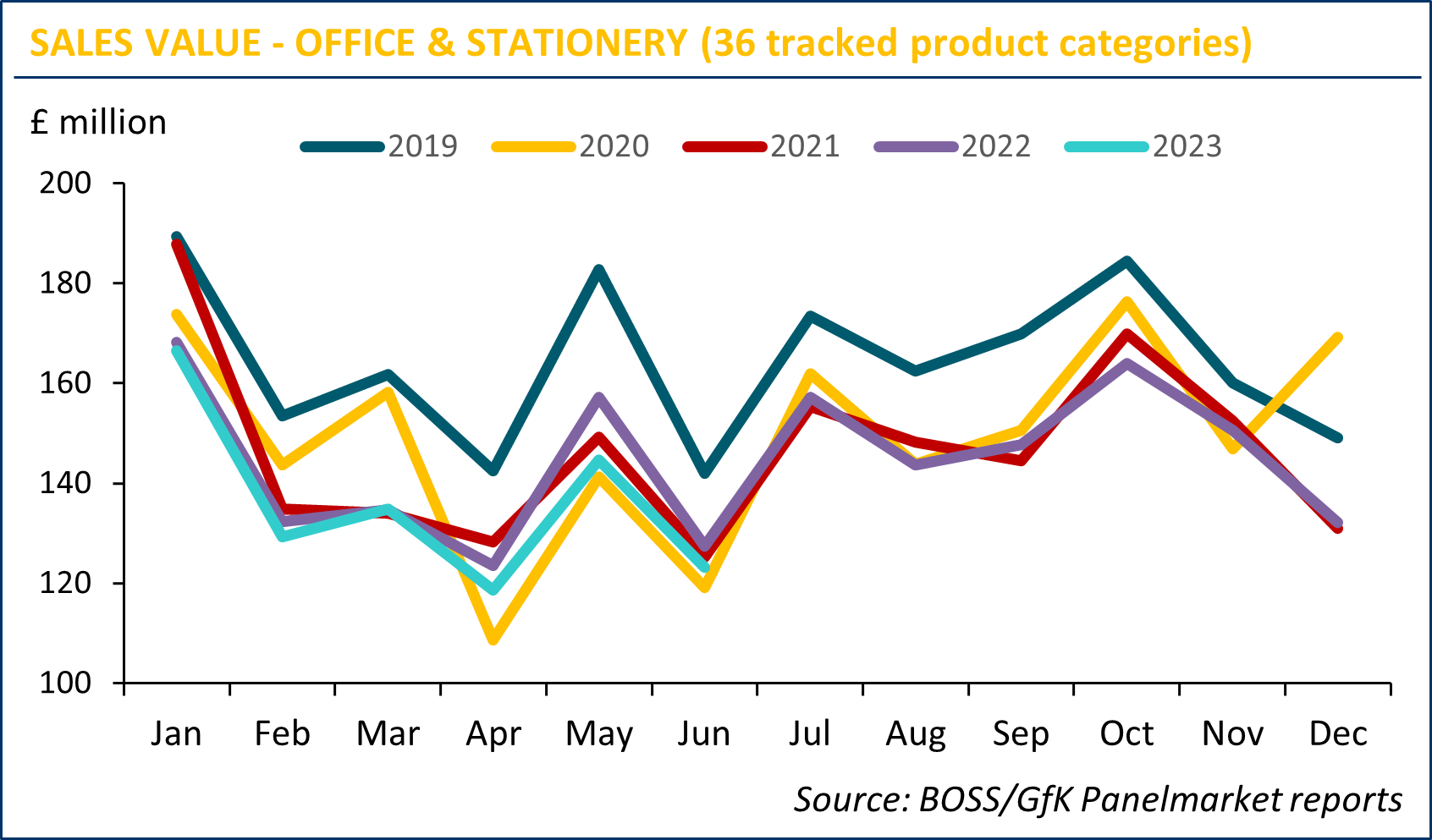 Total Data (Panelmarket)
Sales in June 2023 were just under £123 million – 14.9% down from May, and 3.3% below June 2022.
In 2022 - a lifting of restrictions (in England) helped the total in January 2022 recover. February declined in line with previous years, March stabilised from that. Unfortunately, as expected, April experienced a further downturn – but there was stronger growth, than in recent years, during May. Sales in June held above 2021 and 2020 levels, whilst July recovered to split the levels recorded in 2020 and 2021. A further downturn in August was followed by a slight recovery in September, some growth in October (though just not strong enough to push it above previous October levels). A decline in November was followed by a further deterioration in December. There was an annual decline of 1.3% in 2022. Sales in 2022 were 3.1% below the level in 2020 and 11.8% below the pre-Covid comparison to 2019.
So far in 2023 – we have seen that in sales in January and February tracked marginally below the monthly comparisons to 2022, whilst sales in March were marginally above the comparison to March 2022. Sales in April started to diverge further away from the 2022 comparison. Sales picked-up in May, and then contracted in June – remaining below 2021 and 2022 levels.
Looking ahead - the traditional seasonal pattern suggests a strong pick-up in July, followed by a quieter period in August and September, then a boost in October before a tail-off at the end of the year.
Average piece price was £2.52 in June 2023, 0.8% up on the £2.50 recorded in June 2022.
Sales in the 12 months to June 2023 were just over £1.71 billion – 1.9% below the 12 months to June 2022. (Sales so far this year are 3.1% down in comparison with January and June 2022.)
Average piece price in the 12 months to June 2023 was £2.25 – 8.5% up from the £2.08 recorded in the 12 months to June 2022.
Click here to download the full BOSS/GfK Panelmarket report or a new excel file depicting the latest sales charts for the consumer, retail and systemhouse channels.
Source: BOSS/GfK Panelmarket, www.bossfederation.com